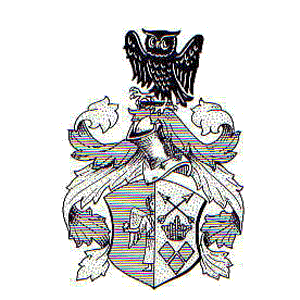 Allehoff
Boesperde-Menden
Gespalten, rechts in Blau am Spalt die rechte Hälfte eines einen goldenen Stern in der ausgestreckten Rechten haltenden rotgegürteten goldengekleideten und -geflügelten Engels, links in Gold eine rote Laubkrone, begleitet oben von zwei gekreuzten blauen Pfeilen, unten von drei (2,1) blauen Rauten. Auf dem Helm mit blau-goldenen Decken eine vor einem flachliegenden roten Buch stehende schwarzeEule mit goldenem Schnabel und goldenen Krallen.
Führungsberechtigt sind/ The following are entitled to bear this coat of arms: Eingereicht bzw. neu angenommen am 6. Oktober 1981 von Wolfgang H. Allehoff, Diplom-Psychologen in Mannheim-Lindenhof und Bad Wimpfen für sich und seine ehelichen Nachkommen im Mannesstamm sowie zugunsten der übrigen ehelichen Nachkommen im Mannesstamm seines Vaters Theodor F. Allehoff (* 21.12.1921, t 12.8.1981).
Erstellt von/ Created by PRO HERALDICA®, Rolf E. Sutter
Eingereicht von/ Submitted by PRO HERALDICA®, Stuttgart.
Eingetragen unter Nr./ Registration no 81669
Wollen Sie hier ihr eigenes Wappen sehen?